Welcome to in-depth comparison between two kitchen powerhouses: The Ninja AF100UK and AF160UK Air Fryers! If you're on the hunt for the ultimate kitchen companion to treat yourself with some crispy delights without the guilt, you've come to the right place. In this detailed comparison, we'll dive deep into the features, functionalities, and performance of these two air fryers, setting the stage for an epic showdown that will leave your taste buds craving for more.
In the world of modern cooking, air fryers have revolutionized the way we indulge in our favorite guilty pleasures. With their promise of healthier, oil-free cooking that doesn't compromise on taste and texture, these appliances have become a must-have for every food enthusiast. The Ninja AF100UK and AF160UK are no exception, and they bring a plethora of cutting-edge technologies and innovative designs to the table. Whether you're a seasoned chef or an aspiring home cook, the battle between these two air fryers will help you make an informed decision and elevate your cooking game to a whole new level of perfection.
So, fasten your aprons, preheat your anticipation, and get ready to explore the fascinating world of Ninja AF100UK vs. AF160UK Air Fryer – a face-off that's bound to transform the way you experience fried goodness, all while maintaining a healthy twist. Let's embark on this flavorful journey to unravel the secrets behind these remarkable kitchen appliances and discover which one takes the crown as the ultimate air-frying champion!
Comparison Chart: AF100UK vs AF160UK
| Features | Ninja AF100UK | Ninja AF160UK |
| --- | --- | --- |
| Style | Basket Style | Basket Style |
| Controls | Digital Control Panel | Digital Control Panel |
| Cooking Functions | 4 Cooking Functions: Air Fry, Roast, Reheat and Dehydrate | 6 Cooking Functions: Max Crisp, Air Fry, Roast, Bake, Reheat, Dehydrate. |
| Size | 3.8L | 5.2L |
| Capacity | 1.3Kg Chicken, 0.9Kg French Fries | 2Kg Chicken, 1.4Kg French Fries |
| Suitable For | 2-4 People | 3-5 People |
| Accessories | Basket & Crisper Plate | Basket & Crisper Plate |
| Cleanup | Dishwasher Safe | Dishwasher Safe |
| Dimensions | 34.5x27.9x33.8 CM | 36x25x32 CM |
| Weight | 4.4Kg | 5.2Kg |
| Warranty | 2 Year Warranty | 2 Year Warranty |
| Check Reviews & Offers | Buy on Amazon | Buy on Amazon |
Important Differences Between Ninja AF100UK vs AF160UK
The main difference between the Ninja AF100UK and AF160UK Air Fryers lies in their cooking functions. The Ninja AF100UK offers a versatile range of 4 cooking functions, including Air Fry, Roast, Reheat, and Dehydrate. This array of functions provides a decent level of flexibility, allowing users to prepare a variety of dishes with ease. Whether you're craving crispy fries or dehydrated fruit snacks, the AF100UK has you covered.
On the other hand, the Ninja AF160UK takes it up a notch with a total of 6 cooking functions at your culinary disposal. Along with the Air Fry, Roast, Reheat, and Dehydrate functions found in the AF100UK, the AF160UK introduces two additional options: Max Crisp and Bake. This expanded repertoire opens up a world of possibilities, enabling you to experiment with baking delicious treats or achieving the perfect level of crispiness for your favorite dishes.
Cooking Capacity:
Another significant difference between these two air fryers is their cooking capacity. The Ninja AF100UK boasts a 3.8L capacity, making it suitable for preparing moderate-sized meals. With this size, you can easily cook up to 1.3 kilograms of chicken or 0.9 kilograms of French fries, catering to small to medium-sized gatherings.
On the other hand, the Ninja AF160UK comes with a larger 5.2L capacity, offering a more spacious cooking area for your culinary endeavors. This increased capacity allows you to prepare larger batches of food, making it ideal for entertaining guests or cooking family-sized portions. With a 2-kilogram chicken or 1.4-kilogram French fries capacity, the AF160UK stands ready to serve hearty meals without compromising on taste or texture.
Size and Weight:
Considering the dimensions and weight of the two air fryers, there are minor differences worth noting. The Ninja AF100UK measures approximately 34.5×27.9×33.8 centimeters and weighs 4.4 kilograms. Its compact size and lightweight design make it a convenient addition to any kitchen, especially if space is a concern.
On the other hand, the Ninja AF160UK comes in at around 36x25x32 centimeters and weighs 5.2 kilograms. Although slightly larger and heavier than its counterpart, the AF160UK still maintains a relatively compact form, fitting well into most kitchen setups.
Important Features of Ninja AF100UK & AF160UK
Here are some of the key features about AF100UK and AF160UK air fryers that we found worth mentioning.
Design:
The Ninja AF100UK and AF160UK Air Fryers come with a sleek and modern design that effortlessly blends with any kitchen decor. Both models feature a stylish, stainless steel exterior, radiating a sense of elegance and durability. The intuitive placement of control buttons and LED displays on the front panel adds to their user-friendly appeal, allowing for easy access to cooking settings and functions.
Convenient Digital Control:
When it comes to user convenience, both the Ninja AF100UK and AF160UK excel with their advanced digital control systems. Effortlessly navigate through various cooking functions, temperature settings, and timer options with just a few taps on the responsive touch control panels. The digital displays provide clear and precise information, ensuring that you have complete control over your culinary masterpieces. Press of a button and Voila!! Your favorite dish is ready to serve.
Compact Design:
The Ninja AF100UK and AF160UK Air Fryers share a common trait – their thoughtful compact design. The AF100UK's space-saving dimensions make it a perfect fit for smaller countertops or kitchens with limited space. Likewise, the AF160UK's compact form doesn't compromise its generous cooking capacity, making it an excellent choice for those seeking a larger cooking area without sacrificing precious kitchen real estate. If you are living in small spaces, and need to save precious kitchen real estate, buying either AF100UK or AF160UK would make complete sense.
Ease of Cleanliness:
Do you like cleaning cooking appliances? No one does but worry not as Ninja's air fryers are super easy to clean. Cleaning up after a delightful cooking session is hassle-free with both the Ninja AF100UK and AF160UK Air Fryers. Thanks to their non-stick, dishwasher-safe cooking baskets and trays, you can bid farewell to stubborn food residues and scrubbing sessions. The removable components ensure quick and effortless cleanup, allowing you to spend more time enjoying your culinary creations and less time on tedious maintenance.
Pros √
4 Cooking Functions

Easy to Use Controls

Dishwasher Safe Accessories

Compact and Portable Design

Lightweight and Budget friendly Option
Cons ×
Nonstick Coating is Fragile

A strange Plastic Smell at the beginning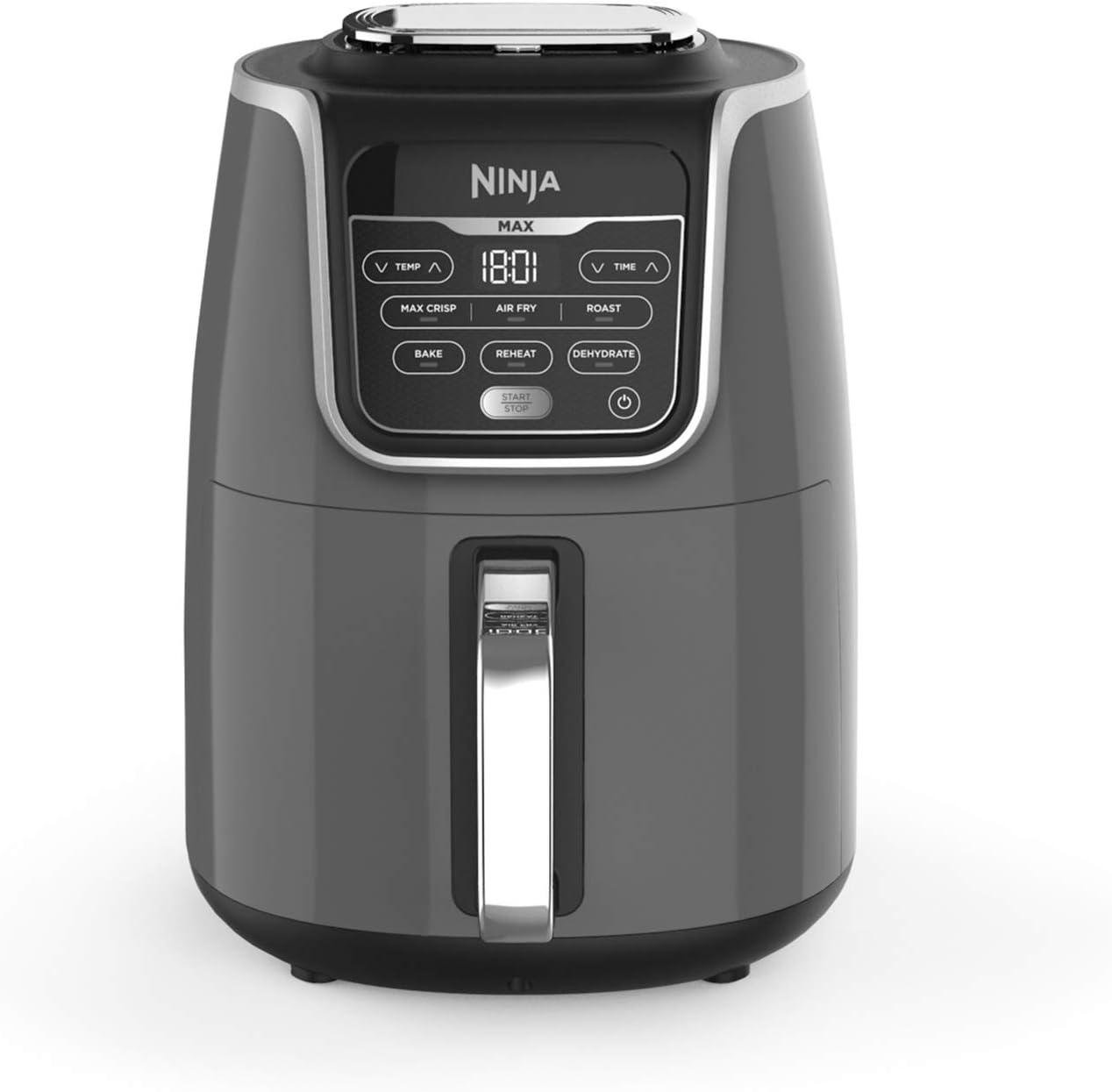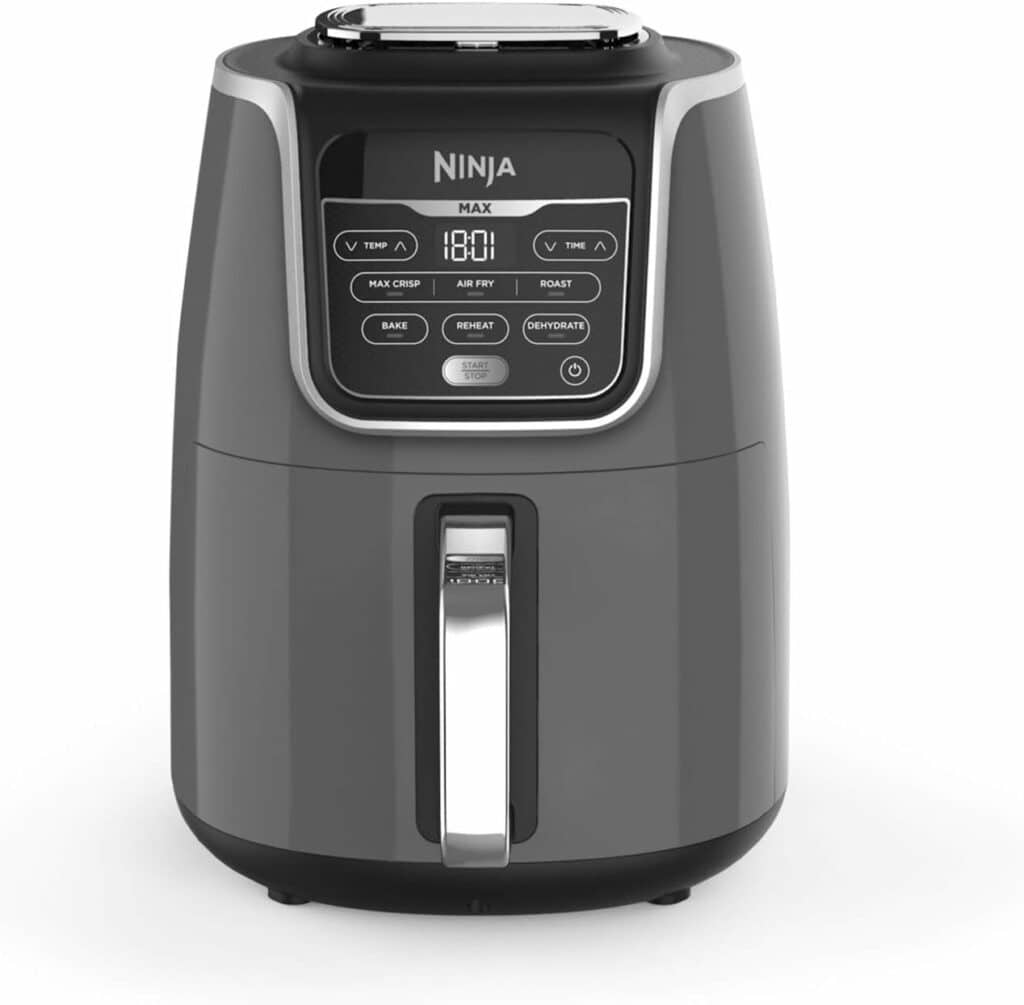 Pros √
Versatile with 6 Cooking Functions

Larger Cooking Capacity for 4-5 people

Nonstick Coated Air Frying Basket

Dishwasher Safe Accessories

Compact Design

User Friendly Control Panel
Cons ×
Conclusion: Ninja AF100UK vs AF160UK – Which One's Better?
After an in-depth analysis & testing of the Ninja AF100UK and AF160UK Air Fryers side by side, it is evident that both models offer exceptional features and functionalities to enhance your cooking experience. Whether you are a culinary enthusiast looking for versatility in cooking functions or a busy individual in need of a convenient and efficient appliance, both the AF100UK and AF160UK have something to offer. However, if we were to suggest the better model, the Ninja AF160UK takes the crown with its wider array of cooking functions and larger capacity.
The Ninja AF160UK's six cooking functions, including Max Crisp and Bake in addition to the standard Air Fry, Roast, Reheat, and Dehydrate, provide a broader range of cooking options to experiment and create culinary delights. This versatility makes it an ideal choice for those who love to explore different recipes and cooking styles. Moreover, the generous 5.2L capacity of the AF160UK allows for cooking larger portions, making it a perfect fit for families or gatherings.
While the Ninja AF100UK is no slouch and still offers excellent performance with its four cooking functions and compact design, the AF160UK's additional features and larger capacity make it stand out as the better option for those seeking a more comprehensive and versatile air frying experience. In conclusion, the Ninja AF160UK Air Fryer emerges as the top choice between the two, providing a winning combination of convenience, functionality, and capacity that will elevate your cooking prowess and redefine the way you enjoy your favorite meals – a true powerhouse in the world of air fryers.