A convection oven is a baking appliance that uses a fan to circulate hot air around the food. This ensures even heat distribution and prevents the formation of hotspots, which can lead to uneven cooking. Convection ovens are ideal for baking cakes, cookies, and other pastries, as well as roasting meat and vegetables.
In the market for a convection oven? You may be wondering if the Breville 900 vs 800 is the better option. In this blog post, we'll compare the two models side by side and help you decide which one is right for you. Both of these ovens are great choices, but there are some key differences that may influence your decision. Keep reading to learn more!
Breville BOV900BSS vs BOV800XL Convection Oven Comparison Table
| Features | Breville BOV900BSS | Breville BOV800XL |
| --- | --- | --- |
| Dimensions | 17.5x21.5x12.7 Inches | 15.7x18.5x11 Inches |
| Material | Stainless Steel | Stainless Steel |
| Weight | 38.9 lbs | 22.6 lbs |
| Capacity | 9 Slices of bread, 14 Pound turkey, 5 QT Dutch Oven, 9x13" Pans and 12 cups muffin tray | 6 slices of bread, 6 cup muffin tray & a 13" Pizza |
| Control Panel | Dials & Buttons | Dials & Buttons |
| Cooking Functions | 13 Cooking Functions: | 9 Cooking Functions: |
| | Toast, Bagel, Broil, Bake, Roast, Warm, Pizza, Proof, Air Fry, Reheat, Cookies, Slow Cook & Dehydrate | Toast, Bagel, Bake, Roast, Broil, Pizza, Cookies, Reheat & Warm |
| Power | 1800 Watts – 6 Quartz Elements | 1800W – 5 Quartz Elements |
| Interior space | 1 Cubic Feet | 0.8 Cubic Feet |
| Toast | Yes | Yes |
| Pizza | Yes | Yes |
| Nonstick interior | Yes | Yes |
| Element IQ feature | Yes | Yes |
| Timer | Yes | Yes |
| Accessories | 2 Oven Racks, 13" Pizza Pan, 9x13" Broil Rack, Enamel Roasting Pan & Mesh Basket Rack for Dehydrating & Air Frying | 12x12" Baking Pan, 12x12" Enamel Broil Rack, 13" Pizza Pan |
| Warranty | One year warranty | One year warranty |
| User Rating | 4.7/5 Star | 4.6/5 Star |
| Check the Best Price | Buy on Amazon | Buy on Amazon |
Key Difference: Breville BOV900BSS vs BOV800XL Convection Oven
Breville BOV900BSS is slightly bigger in terms of dimensions measuring 17.5×21.5×12.7 inches while Breville BOV800XL measures 15.7×18.5×11 inches. Also, Breville BOV900BSS weighs 39 pounds which is pretty heavy whereas Breville BOV800XL measures 22.6 pounds which too is not the most lightweight of an appliance.
In terms of what both ovens can accommodate, Breville BOV900BSS can handle 9 Slices of bread, 14 Pound turkey, 5 QT Dutch Oven, 9×13" Pans and 12 cups muffin tray whereas Breville BOV800XL lets you prepare 6 slices of bread, 6 cup muffin tray & a 13" Pizza with ease.
The main difference between two ovens is the cooking functions: Breville BOV900BSS Smart Oven Air Fryer Pro comes with 13 cooking functions which while Breville BOV800XL smart oven comes with 9 cooking functions.
Breville BOV900BSS is equipped with 6 Quartz heating elements whereas Breville BOV800XL comes with 5 Quartz heating elements. Also, Breville BOV900BSS has an interior space of 1 cubic feet while Breville BOV800XL comes with interior space of 0.8 cubic feet.
Breville BOV900BSS Smart Oven Air Fryer Pro Accessories
2 Oven Racks
13" Pizza Pan
9×13" Broil Rack
Enamel Roasting Pan
Mesh Basket Rack for Dehydrating & Air Frying
Breville BOV800XL Smart Oven Accessories
12×12" Baking Pan
12×12" Enamel Broil Rack
13" Pizza Pan
Breville BOV900BSS Smart Oven Air Fryer Pro Review
The Breville BOV900BSS Smart Oven Air Fryer Pro is a revolutionary kitchen appliance that not only looks great but has an impressive array of features. With dimensions of 17.5×21.5×12.7 inches and a weight of 38.9 lbs, it easily fits on your countertop without taking up too much space. Crafted out of stainless steel, the Breville Smart Oven Air Fryer Pro is built to last and looks sleek and modern in any kitchen.
The interior boasts an impressive 1 cubic feet capacity and can fit up to 9 slices of bread, 14 pound turkey, 5 qt Dutch oven, 9×13 pans and 12 cup muffin tray – ideal for all types of cooking needs. The dials and buttons control panel ensures that you have the ultimate control over your cooking experience while the 13 different cooking functions provide plenty of options for customizing your meals – from toast to bagels, broil to bake, roast to warm, pizza to proof, air fry to reheat, cookies to slow cook and dehydrate.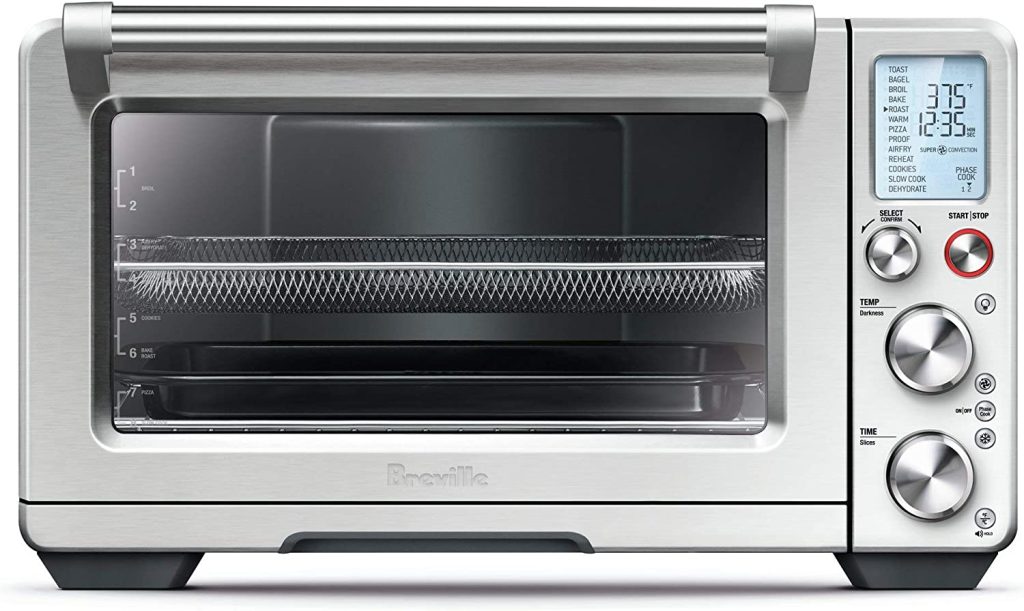 With a power output of 1800 watts with 6 quartz elements you can be sure you'll get consistent heat every time while the ingenious Element IQ feature ensures that each element adjusts its own temperature accordingly depending on what food or function you select – providing even heat distribution throughout the entire oven cavity so that no one slice of toast gets burnt.
But perhaps the most useful feature is the timer which allows you to preset how long you want your food cooked for so that it's ready when you are – ideal for busy households or those who like their food cooked to perfection at all times. And with a nonstick interior surface cleaning up after cooking is as easy as pie.
What's more, accessories such as 2 oven racks, 13-inch pizza pan, 9 x13-inch broil rack, enamel roasting pan and mesh basket rack for dehydrating and air frying come included with purchase making this already great oven even better value for money – plus there's a one year warranty included too just in case anything unexpected happens.
Overall, the Brevile BOV900BSS Smart Oven Air Fryer Pro is an outstanding kitchen appliance no home should be without! With its sleek design aesthetic combined with intuitive controls and powerful performance this smart oven will make any meal look like it was prepared by a professional chef – no wonder why it has earned 4.7 out of 5 stars.
Pros √
Amazing cooking quality
Does it all
With massive interior, you can feed entire family
Number of cooking presets and smart features
Looks good and fits well with most kitchen themes
Durable construction
Cons ×
Somewhat noisy fan
Large footprint for smaller spaces
Expensive
Breville BOV800XL Smart Oven Review
The Breville BOV800XL Smart Oven is a top-of-the-line stainless steel toaster oven designed to meet all your kitchen needs. With five quartz elements and 1800W of power, it can toast, bagel, bake, roast, broil, heat up pizza, make cookies, reheat food and keep it warm. Its 0.8 cubic feet interior space allows you to fit six slices of bread and six cup muffin trays simultaneously.
This appliance also has an Element IQ feature that distributes the energy according to the type of food you are cooking. For example, if you want to bake something, it will focus on hotter temperatures in the upper and lower elements for even browning or crisping. The timer lets you set the cook time and will sound off when your food is ready so you can check on it.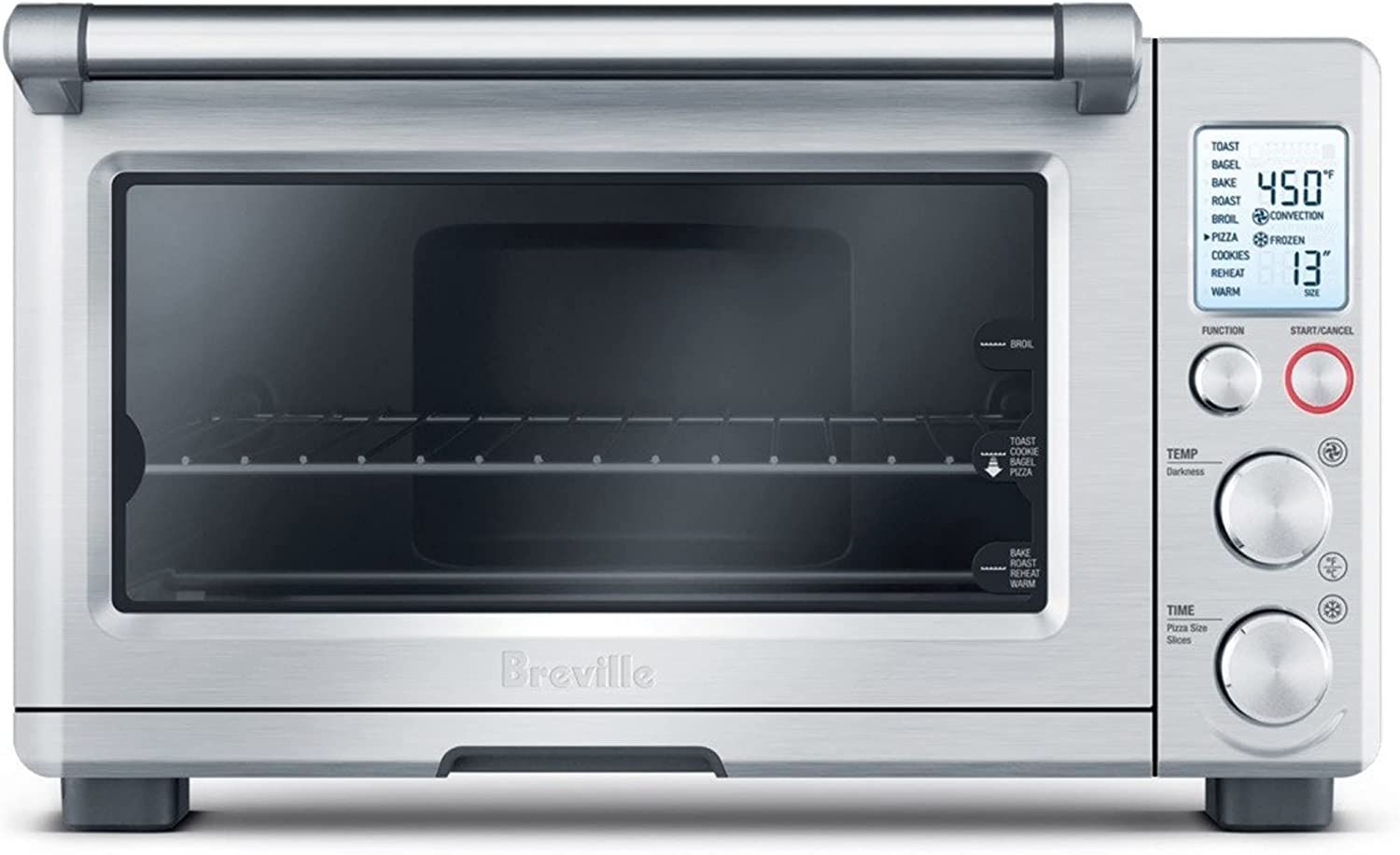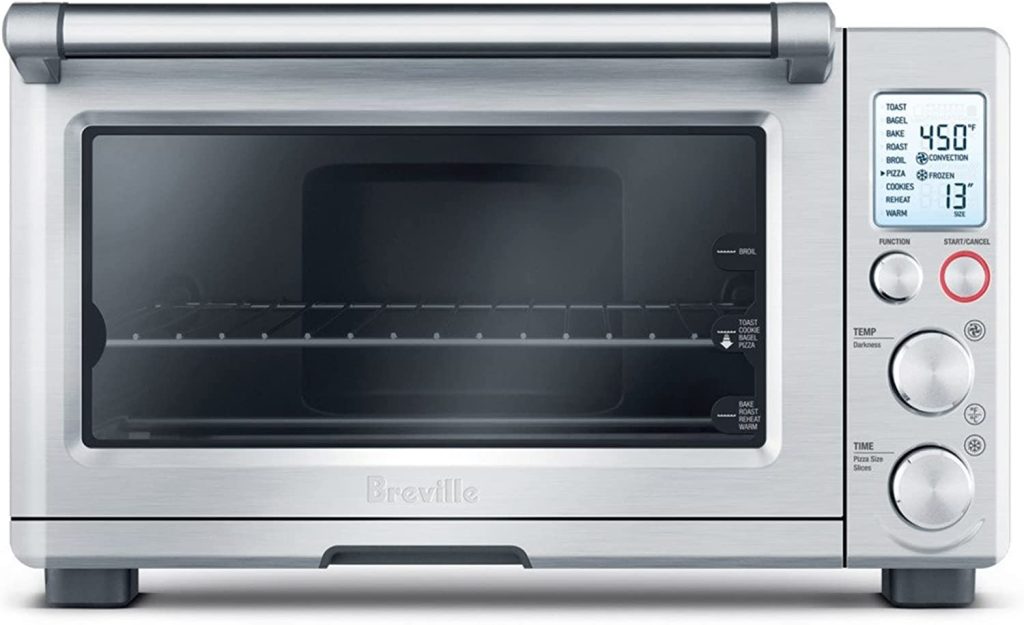 The controls are simple with dials and buttons that let you select from nine different functions and adjust your settings as needed. You can choose from light to dark or adjust the temperature from 175°F – 450°F depending on what type of food you're making. This oven also comes with several helpful accessories including a 12×12" baking pan, 12×12" enamel broil rack and a 13" pizza pan so that you have everything you need to get started.
Overall, this oven is great for anyone who wants an easy way to cook delicious meals without taking too much space in their kitchen. It heats quickly and evenly while offering plenty of adjustable settings so that your dishes always turn out perfectly cooked every time. Plus, its nonstick interior makes clean up a breeze. Lastly, this product comes with a one year warranty so that customers can have peace of mind knowing their purchase is well protected in case anything goes wrong during use. All in all, this oven is definitely worth considering especially for its price point given how high end its features are—it's no wonder why it's received such good ratings from users.
Pros √
Easy to operate
brilliant all round cooking performance
Impressive temperature accuracy
Range of cooking functions and presets
Spacious interior to feed entire family
Durable stainless steel construction
Cons ×
Expensive
Not really a beginner's friendly appliance
Verdict: Breville BOV900BSS Vs BOV800XL Convection Oven
After reading this blog post, you should have a good idea of which convection oven is right for you. The Breville BOV900BSS has more features and costs a bit more, while the Breville BOV800XL is simpler and costs less. If you need an oven with all the bells and whistles, go with the Breville BOV900BSS. If you want a quality convection oven at a lower price, go with the Breville BOV800XL. Whichever one you choose, you can't go wrong with a Breville convection ovens.